Plate Metal Detectors can be incorporated into any modular plastic conveyor manufactured by ST Machinery, and are housed beneath the conveyor belt surface.
Plate Metal detectors are widely used in conveyor applications such as feeding plastic granulators or plastic shredding machines to prevent damage caused by foreign metal particles, stray nuts or bolts etc.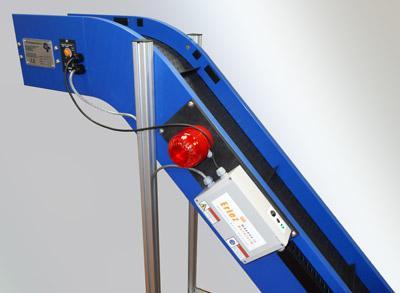 Typically being somewhat cheaper than tunnel detectors, plate metal detectors offer a cost effective solution to metal particle detection, and are sensitive to both ferrous and non-ferrous metals.
Available in a wide range of sizes for varying conveyor belt widths, the sensing height of the metal plate detector covers whole belt width.
Conveyors fitted with plate metal detectors automatically stop on contamination detection, along with siren and beacon alerts and come with a small, lightweight control unit.
Select 'Plate metal detection' in the ancilliaries section of the conveyor enquiry form and we will contact you to discuss your metal detection requirements and options during the quotation phase.