Conveyor Systems Case Study - Customer A
Introduction
Customer A, the world leader in push fit plumbing accessories produces millions of fittings for use worldwide. Their impeccably high quality standards and attention to detail means they use only the best equipment, materials and resources. Couple this with the industries best staff means they have some of the best manufacturing units of their kind in the world.
To maintain their excellence they regularly invest in new plant, equipment and technology and the company philosophy is to only buy the best.
Solution
With the challenge in hand, we were intent on not providing equivalent equipment. With our customer in mind , we wanted to provide the industry with improved options for Sprue Separation.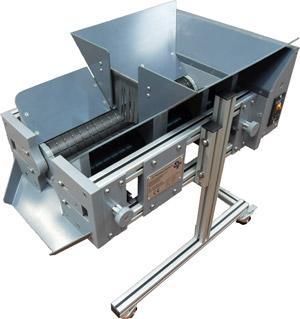 Throughout early 2012 many hours were spent designing and testing the Roller Sprue Separator to meet our customers requirements. Several prototypes were made and with fine tuning we eventually sealed the design specification and manufactured a first off for presentation to our customer for free trial.
We are proud to say that after the short free trial, our Customer promptly ordered 10 off Roller Sprue Separators for complementary use with his Conveyors.